La Biscotte | Teitur
(entry by Anne)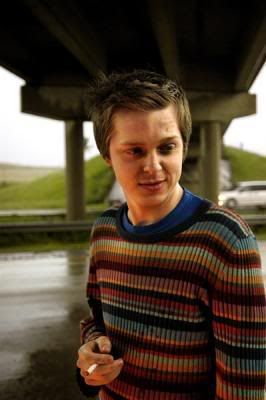 Teitur
vient des îles Faroes, un groupement d'îles danoises situées entre
l'Écosse et l'Islande. Intéressé très jeune par la musique, il quittera son
île à 17 ans pour suivre un parcours musical pour le moins surprenant. Après
avoir signé chez Universal aux Etats-Unis, il a tourné avec son jeune
groupe. En 2003, il a sorti son premier album «
Poetry ans Aeroplanes
»
avant de signer sur un label indépendant allemand (Edel Records).
Tietur
chante des chansons folk pour les demoiselles. Mais aussi pour les jeunes
hommes mélancoliques… Cerise sur le gateau :
Teitur
diffuse chaque semaine
une nouvelle chanson inédite sur son site internet.
-------
Teitur
comes from the Faroes Islands (in-between Iceland and Scotland), a
group of islands that are part of Denmark. Early interested in music, he
will leave his island at 17 to have a very particular musical carrer. After
signing to Universal Records in the US, he went on tour with his former
small band. In 2003, he released his debut solo album «
Poetry and
Aeroplanes
» before signing for a independant german label (Edel Records).
Teitur
sings soft folk songs for girls. But also for melancolic boys… Icing
on the cake :
Teitur
recorded a new unreleased track every week and had it available on his website.
mp3:
Teitur- "Rough Around The Edges"
(YouSend: for a limited time only)
official site: Teitur
My Space: Teitur