re: 1995
Brit-pop had reached its zenith right in the mid-90s with solid releases by brit-pop heavyweights: Blur "Parklife" in 1994 and Oasis "(What's The Story) Morning Glory" in 1995. But yet another band would release their best album in the mid 90's, and that band is
Pulp
, led by Jarvis Cocker. That album is
"Different Class"
.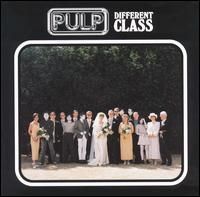 "but the best moment on the album is the hit single "Common People," about a rich girl who gets off by slumming with the lower class. Coming from Cocker, who made secondhand clothes and music glamorous, the song is undeniably affecting and exciting, much like Different Class itself."
(by Stephen Thomas Erlewine, AMG)

YouTube: Pulp- "Common People"