La Biscotte | General Elektriks
(entry by Anne)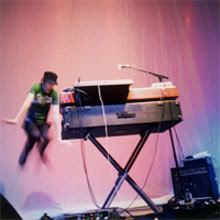 General Elektriks
est le projet de RV Salters. Musicien français fan de
vieux claviers vintage, il a lancé
General Elekriks
juste avant de déménager
à San Francisco. Avec un ordinateur, ses claviers oldschool et un micro
SM-57, il commence à mixer ensemble des boucles, des riffs funky au clavier
et des mélodies aériennes.
General Elektriks
est devenu un journal musical
qui l'a suivi à Seattle, puis à Bay Area à Berkeley, où il habite toujours.
Ensuite, il a commencé à poser des claviers pour l'équipe de Quannum. Son
album
'Cliquety Kliqk'
a d'abord été sorti par Bleu Electric en France, puis
par Compost en Europe et par Quannum aux Etats-Unis. Vous pouvez aussi
écouter son tout premier morceau composé pour
Genral Elektriks
,
"Badville"
,
et d'autres chansons inédites sur son site en vous enregistrant à sa
newsletter.
---------------------------------------------
General Elektriks
is the brainchild of RV Salters. A French national and
keen vintage keyboard player, he initiated
GE
just before moving to San
Francisco. Using a computer, his oldschool keys and a SM-57 mike, he started
sowing together loops, Funky keyboard licks, ethereal melodies and digital
tweaking.
GE
became a musical journal that followed RV through his move to
Seattle, then back down to the Bay Area, Berkeley, where he currently
resides. There, he started laying keys down for the Quannum crew. His album
'Cliquety Kliqk'
was first released in France by Bleu Electric, then picked
up by Compost for Europe and by Quannum for the US. You can also listen to
his very first track composed for
GE
, "
Badville"
and other unreleased tracks
on his website by registrering to his newsletter.
mp3:
General Elektriks- "Badville"
My Space: General Elektriks
official site: General Elektriks