La Biscotte | dEUS
(all text by Anne)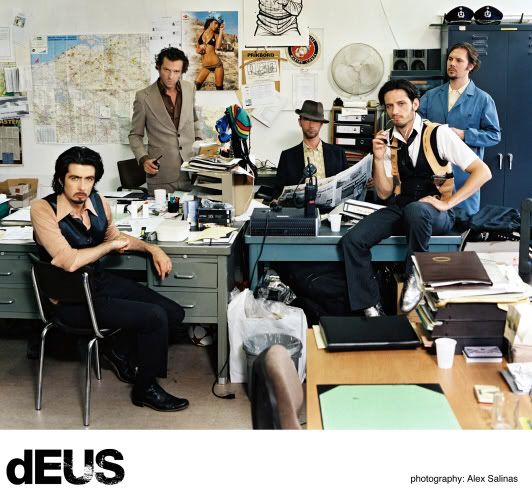 Il aura fallu attendre 6 longues années pour que
dEUS
signe un successeur à
« Ideal Crash »
qui les avait rendus célèbre en 1999. L'an dernier, à la faveur d'un line-up complètement remodelé (seul Tom Barman, le chanteur, subsiste de la formation originale), le groupe belge sortait
« Pocket Revolution »
. Fer de lance d'une scène indie belge en plein mouvement, le groupe pose les bases d'un rock aux multiples facettes s'offrant des incursions dans la pop au gré de chansons torturées et de balades douces.
------------------------------------------------------------------
We must have waited for six long years before
dEUS
made a successor to
« Ideal Crash »
which achieve their celebrity in Europe in 1999. Last year, owing to a completly reorganized line-up (the singer and frontman Tom Barman is the only one to remain of the original formation), the Belgium group released
« Pocket Revolution »
. Spearheading the Belgium indie scene, the group construct a multifaceted rock with a hint of pop carried along by tormented songs and soft ballads.
Video Stream:
dEUS- "7 days, 7 weeks"
official website: dEUS
My Space: dEUS