La Biscotte | L'Enfance Rouge
(text by Anne)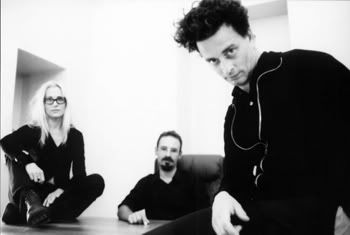 L'Enfance Rouge
est un trio franco-italien aux frontières du rock noisy et
expérimental. Le groupe revendique des influences (très) diverses, une
vision à 360 degrés : de
Keiji Haino à Wadih el Safi
, de la musique
classique contemporaine aux chansons de la guerre civile espagnole.
Désigné par
Thurston Moore
(de Sonic Youth) comme « l'un des tous meilleurs
groupes européens »,
L'Enfance Rouge
fait dans l'électrique et le brutiste
avec des textes en anglais, en français et en italien. Militants engagés,
ils ont d'ailleurs depuis longtemps appelé au boycott de MySpace, empire du
très puissant Rupert Murdoch.
--------------------------------------------------
L'Enfance Rouge
is a Franco-Italian trio on the borders of noisy and
experimental rock. The group claims (very) different influences, « a 360°
view » :
Keiji Haino and Wadih el Safi
, modern contemporary classical music
and songs from the Spanish civil war. Designated by
Thurston Moore
(from
Sonic Youth) as « one of the very best European group »,
L'Enfance Rouge
awake electricity and noise with English, French and Italian texts. Since
they are committed activists, they have been calling for a boycott of
MySpace, empire of the very powerful Rupert Murdoch, for a long time.
mp3:

L'Enfance Rouge- "Barrio Chino"
(YouSend: for a limited time only)
official site: L'Enfance Rouge
My Space: L'Enfance Rouge
(to understand why they boycott MySpace)