Today's Brew | Hibernator: Prince of the Petrified Forest
We interrupt our regularly scheduled blogging for a non-music blog.
BBC Collective
has a feature on the Hibernator show that's going on in London. A different kind of Disney World.
(text from BBC Collective site)
Multidisciplinary collaborators London Fieldworks (Bruce Gilchrist and Jo Joelson) are creating their project, Hibernator: Prince Of The Petrified Forest, in real time at Beaconsfield, Vauxhall, in London. Taking Felix Salten's novel, Bambi: A Life In The Woods as inspiration, the time-based project exists over three spaces; a green-screen animation stage in the upper gallery, a live feed in the café area and film projection in the back space.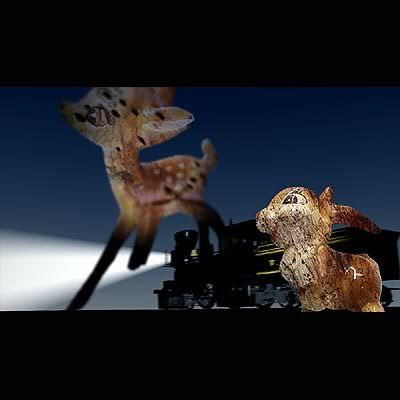 Hibernator: Prince Of The Petrified Forest
is at Beaconsfield, London, until 29 April 07.
Watch the video tour, ovah
here
.
Read the full article ovah
here
.
Back to our regularly scheduled blogging...