re: 1999
A couple of years after the release of
Buena Vista Social Club
album, a long time Cuban musician
Ibrahim Ferrer
followed up with his first recording debut album when most musicians at his age would either consider their music careers to its near end.
If it weren't for
Ry Cooder
who had traveled to Cuba in 1996, to bring Ferrer and some of the other folks to form the Buena Vista Social Club-- the world most likely would never had heard of this music.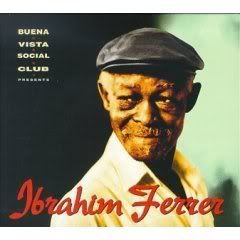 At age 63-plus, Ferrer was long overdue for a debut album, and as a result the disc communicates a feel of easy satisfaction.
(by David Lavin, AMG)
From the album
Buena Vista Social Club Presents Ibrahim Ferrer
:
mp3:
Ibrahim Ferrer-"Nuestra Ultima Gusto"
Buy the album ovah
here
.