re: 1988
This album should definitely be in your collection, and if it isn't, well, I highly recommend you pick yourself a copy. It's one album that I will never grow weary of listening to.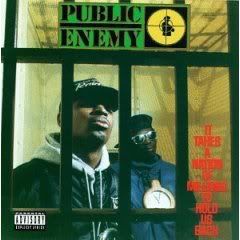 It Takes a Nation of Millions to Hold Us Back

, a record that rewrote the rules of what hip-hop could do. That's not to say the album is without precedent, since what's particularly ingenious about the album is how it reconfigures things that came before into a startling, fresh, modern sound. Public Enemy used the template Run-D.M.C. created of a rap crew as a rock band, then brought in elements of free jazz, hard funk, even musique concrète, via their producing team, the Bomb Squad, creating a dense, ferocious sound unlike anything that came before.
What's amazing is how the words and music become intertwined, gaining strength from each other. Though this music is certainly a representation of its time, it hasn't dated at all. It set a standard that few could touch then, and even fewer have attempted to meet since.
(by Stephen Thomas Erlewine, AMG)
Public Enemy- "Bring the Noise"
(YouSend: for limited time only)
Buy the album ovah
here
.