re: 1991
The Farm from Liverpool. A band that struggled to find its own sound-- and then finally jumped on the bandwagon with the Madchester sound of the early 1990s. Their claim to fame was this obscure album, that just sorta came out of nowhere...leaving the band going nowhere.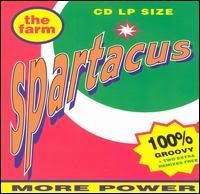 "As an artifact, Spartacus is fascinating, since it demonstrates how far the over the top the entire Madchester phenomenon went, even if the record itself isn't necessarily good listening."
(by Stephen Thomas Erlewine, AMG)
Based on the melody of Pachelbel's Canon. I confess the song "All Together Now" sounds deliberately cheesy, but for the context of its time, it has a catchy beat. Although the whole album is rather mediocre and really doesn't have an endearing sense of being a classic, this particular song isn't entirely that bad.
mp3:
The Farm- "All Together Now"
(YouSend: for a limited time)

YouTube: The Farm- "All Together Now"