Today's Brew | Deerhunter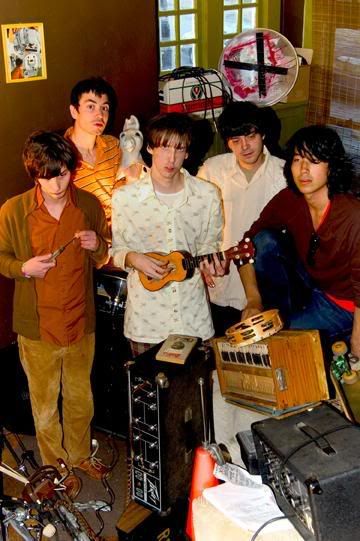 P-folk's
gave the album by
Deerhunter
"Cryptograms"
a 'best new music' stamp of approval. They like 'em as much as we like 'em. The album drops on Feb. 6th.
Here's what
P-folk
said about this album:
Atlanta five-piece Deerhunter, who hailed Cooper as a primary influence in a recent Dusted feature, show their guts admirably on this vast, visceral second album. Arranged in chronological sequence from two distinct recording sessions, Cryptograms is alternately murky and ethereal, amorphous and incisive, shot through with Sonic Youth guitar squall, Spacemen 3's blissful hymns, the morbidly introspective drum sounds of early Factory Records productions, and the abstract sonic richness of Harold Budd's collaborations with Brian Eno.
(excerpt by Marc Hogan, January 30, 2007)
Read the full review ovah
here
.
My previous entry about them ovah
here
and
here
.

mp3:
Deerhunter- "Heatherwood"
(YouSend: for a limited time only)
YouTube:
Deerhunter-
"Straight Lights"
-----------------cut here 8<--------------------------
Also:
Today,
Clap Your Hands Say Yeah's
sophomore release
"Some Loud Thunder"
drops today.
They are currently in Europe on tour with
Cold War Kids
and
Elvis Perkins
.
Clap Your Hands Say Yeah- "Underwater (You and Me)"