Late Night Brew | OCMA : Close & Burden
As some of you may have been saddened by the recent demise of The OC series on Fox. I only heard of the news from NPR, and frankly I wasn't too enthusiastic or remotely interested in watching the show. Especially since I grew up in the OC, I really didn't need to be reminded of the type of lifestyle or place I grew up in. Anyways, one thing to definitely check out, if you do visit the OC or live in the local area, is to visit the Orange County Museum of Art which is located in Newport Beach.
Yes, I know. There isn't much of an art scene in the OC, or maybe there is, and I'm totally oblivious of it, since I now live in the LA area. Anyways, there's a couple of upcoming shows that struck my fancy, and I hope to catch when it opens.
Chuck Close Prints: Process and Collaboration
jan 28, 2007 - apr 22, 2007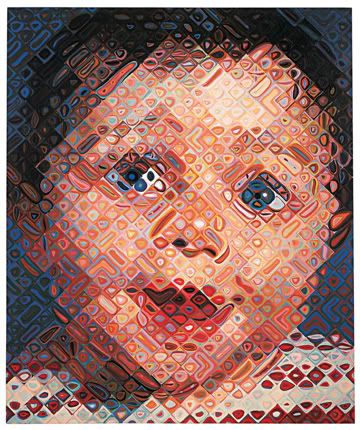 Emma, 2002; Pace Editions Inc, New York, printer (Yasu Shibata); Pace Editions, Inc., New York, publisher
Featuring 118 works dating from 1972 to 2002, Chuck Close Prints illustrates the artist's range of invention in etching, aquatint, lithography, handmade paper, direct gravure, silkscreen, traditional Japanese woodcut, and reduction linocut. Highlighting the creative processes and technical collaboration between the artist and the master printers, the exhibition demonstrates how Close has consistently but variously challenged the accepted boundaries of the printmaking tradition. Taken together, these prints constitute a remarkable self-portrait of the creative drive, vision, and intellect of one of America's most important living artists.
(text from the OCMA site)
Chris Burden: A Tale of Two Cities
feb 3, 2007 - jun 10, 2007
Inspired by the artist's fascination with war toys, bullets, model buildings, antique soldiers, and a fantasy about the twenty-fifth century—a time when he imagines the world will have returned to a system of feudal states. The miniature reconstruction of two such city-states, poised for war, incorporates 5,000 war toys from the United States, Japan, and Europe—on a 1,100 square foot sand base surrounded by a "jungle" made of houseplants. The viewer is only able to comprehend its details by looking through binoculars, becoming part of Burden's installation.
(text from OCMA site)
official site: OCMA