Late Night Brew | Linda Linda Linda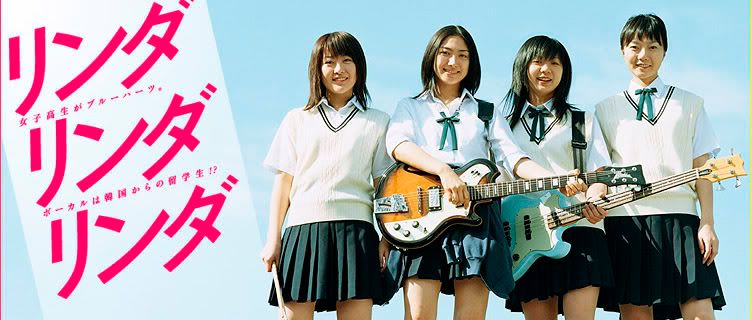 Don't ask me why I posted this entry, but there's something really weird about this movie...which I find intriguing as I was browsing through the NY Times over the weekend.
James Iha

of the Smashing Pumpkins' has laid down the soundtrack for this movie made up of awkward conversations, listless moments and shy glances that makes you think it's an art flick until you suddenly realize that this is a punk rock anthem about how rock and roll saves our souls

The three members soldier on: Kyoko (Aki Maeda – BATTLE ROYALE) is on drums, Nozumi (Shiori Sekine from the real life band Base Ball Bear) is on bass and Kei (Yu Kashii – the very cool looking secret weapon in LORELEI) switches from keyboards to guitar. And finally, they recruit a shy Korean exchange student to be their singer (Bae Doo-Na, SYMPATHY FOR MR. VENGEANCE, BARKING DOGS NEVER BITE).
(text courtesy of NYAFF 2006)
New York Asian Film Festival 2006
Navigate yourself through the site to the trailer-
official site: Linda Linda Linda
(Site is mostly in Japanese, but some English)