random tidbits
I really never liked the music selection at Best Buy.
Pitchfork reports that Best Buy is now selling "left of the dial indie heroes" at the obscenely low price of $7.99.

"How can Best Buy get away with that? Isn't that illegal or something? Well, no. Welcome to the wonderful world of co-ops. Co-op campaigns are deals in which labels exchange money or extra CDs ("cleans") for prominent placement in stores, bulk initial orders, sale pricing, and advertising presence."
Read the full article
here
.
My Old Kentucky Blog
wrote an entry about MP3 download sites...He's diggin' emusic alot. I did their 50 free song downloads...its a pretty nice deal. check it out.
Update: This is as random as it gets. I was just reading up on the "most fearless animal on this planet", after one of my co-workers was talking about something he saw on TV about these critters...just got my curiosity going, and damn...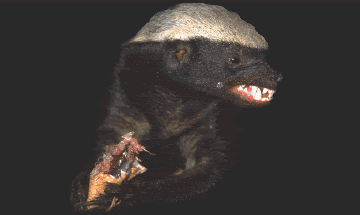 Honey Badger
(Mellivora capensis)
Another update:
(for a limited time)
YouSend: Four Tet-"Sleep, Eat Food, Have Visions">
Also: its that time of year again