Today's Brew | Danielson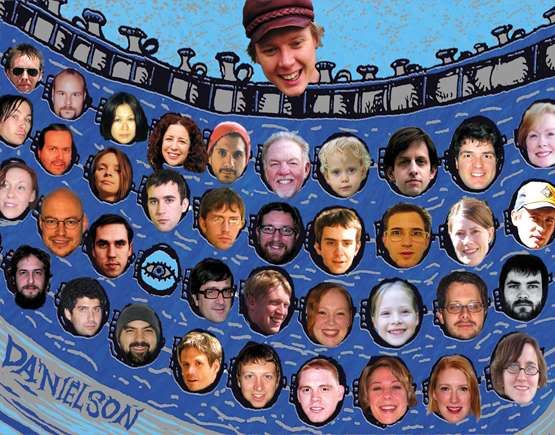 since: 1995
from: Clarksboro, New Jersey
current release: "Ships" (May 9th)
Daniel Smith aka Danielson has pulled together for his current album "Ships", a collective effort of contributors (working with family and friends) with Deerhoof, Sufjan Stevens, Why?,Serena Maneesh, Leopulde, Half-handed Cloud and others.
Pitchfork
comments the album as
"(Smith) distills the best and most unique attributes of his sound, and marries that creative concentrate to a grander, more cinematic sensibility. The result is staggeringly triumphant-- the blustering, ambitious consummation of all he's worked toward."
The album got a
9.1
.
From the album "Ships":
mp3: Danielson- ""Did I Step On Your Trumpet"
Danielson will be in LA on June 3rd at Spaceland.
The rest of the tour schedules ovah
here
.
official site: Danielson
visit here to stream more tracks off the new album-
My Space: Danielson
official site: Danielson: A Family Movie
----------------- cut here 8< ---------------------
Also: Tonight: Guillemots : at The Roxy, Hollywood CA
(not my favorite venue- that's just my preference, but those who want to catch em, that's where they'll be).
Stereogum
has some images and a quick review of the
Guillemots
show at the Bowery Ballroom, NYC.