Guest Blogger- CBJ: On PB & J at Fingerprints
So since I was unable to go to this show, I coerced my friend
Cowbell Junkie
to write a quick blurb of the show as she took some pics, and vid (via YouTube).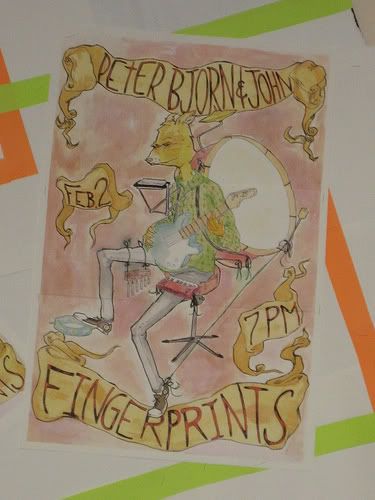 PB+J came out to Long Beach's Fingerprints Friday night for a very
short and intimate performance. The only way of getting in was if you
had a cute yellow wristband completely customized with their initials
and a drawn image of an old typewriter.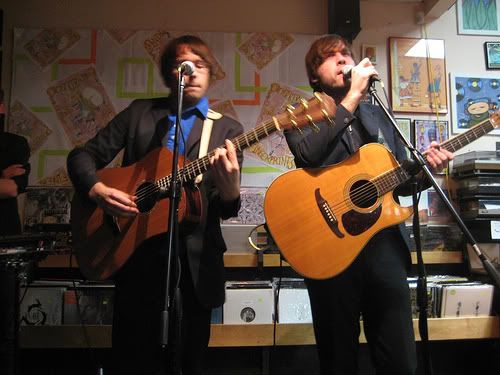 Sadly, there was no sign of Victoria and the 30-minute acoustic set consisted of the 3 guys just jamming along for a handful loving fans. They played 4 songs from Writer's Blocks, including Amsterdam, Paris 2004, Objects of Affection, and Young Folks.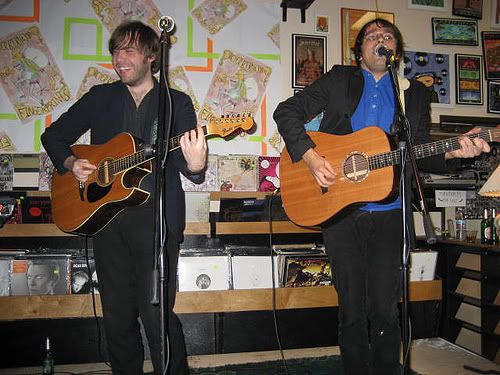 The last song was an old (American?) folk song, which Peter said was one of the first songs he ever learned. Although the acoustics minimalized PB+J's textured, harmonious, and dreamy sound, it didn't stop the crowd from singing along, clapping to percussion, and whistling.

Peter became Bjorn and Bjorn became Peter– a joke that started because of Bjorn having mic problems andconstantly wanting to switch places with Peter. Their humor really set the show off with a lighthearted air. Who knew these Swedes were so playful! Yes, they forgot some lyrics and teased each other in Swedish, but it was their mess-ups and informality that made the night so friendly.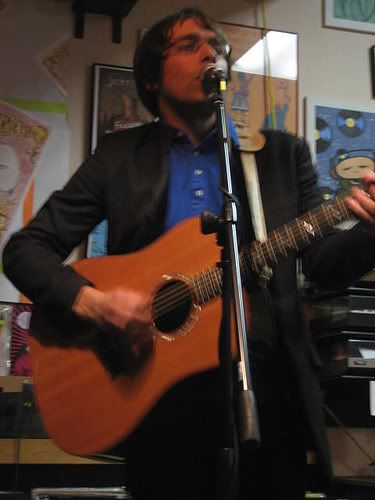 Visit her site for a vid of "Objects of My Affection" ovah
here
.

mp3:
Peter Bjorn & John- "Objects of My Affection"
(YouSend: for a limited time only)
Their album
"Writer's Block"
gets a domestic (US) release and drops tomorrow (Feb. 6th).