Second Cup | Citizen Beck
On the eve of his new album "The Information" dropping on Oct. 3rd (Tuesday). LA weekly has an interesting article that explores some questions from an interview with LA's very own, as inquiring minds want to know.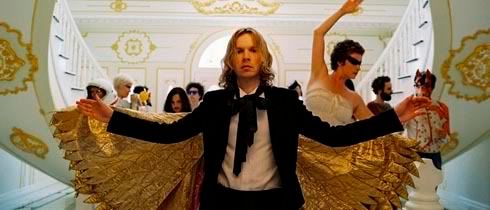 From the article "Citizen Beck":
Instead, he's transformed in our minds from innocent wunderkind to lightning rod. People take sides: One person will mention his Scientology leanings and call him a charlatan. Another will insist upon his unwavering genius. Still another maintains he's the same as he was when he was playing in front of disinterested crowds with just a guitar and a mike while the real band was setting up.

Why do we still care? And lots of us still do, despite his uneven and sometimes inconsequential output since Odelay. Is it Beck, his art or the trajectory of our own lives in this city that we're concerned with? Is it because he's become such an indelible part of the story that we can't help but read some of ourselves into it?
(article text by Joe Donnelly, LA Weekly)
LA Weekly: Citizen Beck
YouSend: Beck- "Cell Phone's Dead"
(for a limited time)
Buy the album ovah
here
.
official site: Beck