Today's Brew | Josh Grier's fave 2006 songs
This week's
Pitchfork's Guest List
is from the band Tapes N Tapes frontman Josh Grier.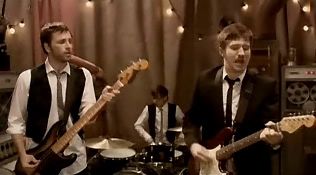 Pitchfork's Last week's Guest List entry- Colin Meloy
Favorite Songs of the Past Year
Liars: "The Other Side of Mt. Heart Attack"
The contrast between this song and the rest of the album is initially so stark; it goes from intense drums and chanting to this very mellow guitar and vocal track. At first I thought the song was almost out of place on the album, but the more I listen to it, the more I realize it's not. Everything on Drum's Not Dead is so visceral and intense, and "The Other Side of Mt. Heart Attack" is the perfect closing track for the album.
Destroyer: "European Oils"
Everybody sing along: "Ladadadada da dyedyedye." This has to be the best "la la la" chorus in the past 10 years. And then when he goes back to the verses, it's like you picked up your copy of War and Peace.

Wolf Parade: "You Are a Runner and I Am My Father's Son"
When I hear this song, I have an irrepressible tendency to dance like Corky St. Clair in Waiting for Guffman. A song has to be rad to make that happen.
Silver Jews: "Punks in the Beerlight"
I'm a sucker for Dave Berman; I'm also a sucker for anybody who can use the phrase "to the max" 20 times in a song, and make it sound totally sincere. This should have been the theme for [1980s BMX-themed movie] Rad.
For the rest of the Pitchfork article:
Guest List: Tapes N Tapes
Also:
Today's KCRW
Morning Becomes Eclectic
Guest: The Decemberists