TV on the Radio
In heavy rotation via automobile.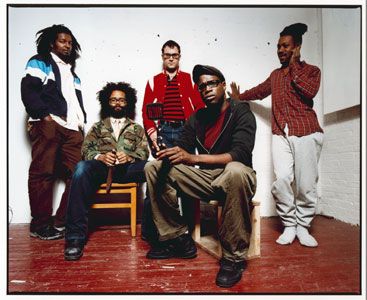 from: Brooklyn, NY
since: 2001
type of music: Experimental rock
current album release: Desperate Youth, Blood Thirsty Babes (2004)
-i'm kicking myself in the butt for missing their secret show at the Troubadour a couple of months ago.
They also toured with Franz Ferdinand this past fall.
-its core duo, vocalist Tunde Adebimpe and multi-instrumentalist/producer David Andrew Sitek, are both visual artists as well as musicians...and they have collaborated in the past with the Yeah Yeah Yeahs.
-As a response to Hurricane Katrina, the band recorded "Dry Drunk Emperor" and then made it available free for download.
-For a mind altering experience, check out their vid:
QT: TV on the Radio- "Staring at the Sun"