What about Bob?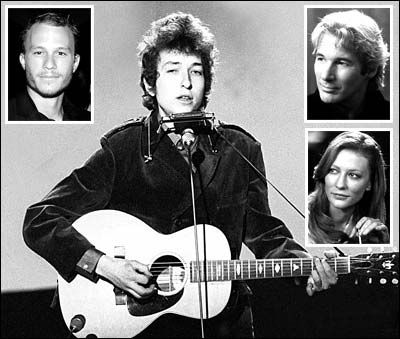 So it will take
4-5 different actors plus an actress
to portray the legendary icon- Bob Dylan for the movie called
I'm Not There
.
The cast to play the different life stages of Bob include: Heath Ledger, Richard Gere, Christian Bale, Ben Wishaw and Cate Blanchett.
The producers called it "a ferocious musical romp".
According to the Telegraph, His songs will be interpreted by Jack White of The White Stripes, PJ Harvey and Michael Stipe of REM.
The strangest of them all is, Cate Blanchett who is to play the young Bob.
Article:
Telegraph UK- "Cate Blanchett to play young Dylan"
.