Today's Brew | Thom Yorke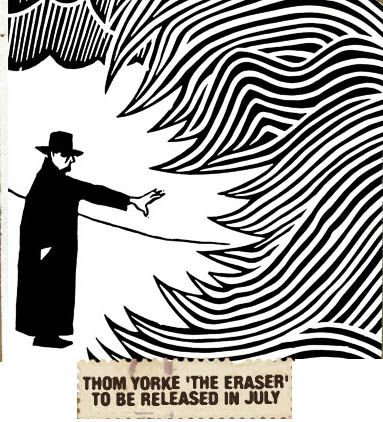 Radiohead won't be releasing a new album this year, as many were hoping, but will be touring this summer.
Instead Thom Yorke reunites with producer Nigel Godrich in his solo album to be released this summer.
official site: Thom Yorke- Eraser site
'The Eraser' on XL Recordings drops on July 10 (UK) / July 11 (US). .
The track listing for the album as follows:
the eraser
analyse
the clock
black swan
skip divided
atoms for peace
and it rained all night
harrowdown hill
cymbal rush
Some material recorded a couple years back at The Bridge School--
A nice little appetizer of things to come.
YouSend: Thom Yorke- "After the Gold Rush (Neil Young Cover)- Live @ The Bridge School-2002"
(for a limited time)