January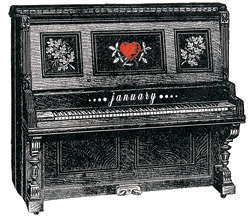 The buzz is the release of
Bishop Allen's "January" EP.
Their plan is to put out an EP for each month of this year. Perhaps not elaborate of a plan as Sufjan Stevens doing an album of all the 50 States, but this should be an interesting project in itself. At least til they release their next full album.
From their site:

It's 4 songs & almost 20 minutes of music, and it features the feral sounds of our new piano. It's only $5, postage included. The first song is Corazon.

This year, we've decided to get back to what we do best, putting out music ourselves, and we're very happy with these first fruits. The songs will soon be up on iTunes, but what you really want to do is get one from us, because of the nifty self-mailing sleeve it comes in.

Each copy will be hand addressed by Justin Rice and postmarked by an equally addled man in the Willimasburg Post Office, commemorating the day your order shipped and the postage rates in effect that particular day.
The EP is a limited edition. They are only making 1000 copies. The piano artwork looks really nice too.
mp3: Bishop Allen- "Corazon"