La Biscotte | Kawaii
(text by Anne)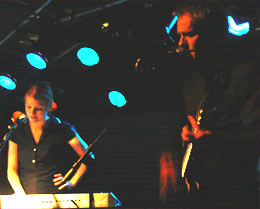 Le post d'aujourd'hui est un peu particulier… Le groupe dont je fais
partie,
Kawaii
, a un homonyme norvégien :
Kawaii
donc. Que j'ai découvert
tout simplement parce qu'on m'a fait remarquer il y a quelques mois qu'il
existait déjà un groupe appelé
Kawaii
quand nous avons monté le nôtre. Je ne
l'ai pas fait jusqu'à aujourd'hui parce que la démarche me paraissait
ridicule, mais il n'y a pas de raison : le post d'aujourd'hui sera donc sur
le groupe norvégien
Kawaii
. Sur une base guitare-claviers vintage, ce duo
electro-pop lo-fi introduit quelques notes fantaisistes avec des jouets
d'enfants, des xylophones. On pense spontanément à Stereolab épuré. Leur
premier album
« If if shiners, we have it »
est sorti en 2004. LE groupe
prépare actuellement un nouvel album sur le label péruvien (!) Plastilina
Records.
--------------------------------------------------
Today's post is quite parcitular. The band i'm a part of,
Kawaii
, has a
Norwegian namesake :
Kawaii
I say. I discovered them just because a few
months ago I've been told a band called
Kawaii
was formed before ours. I
haven't done it yet since I found it ridiculous, but there's no reason :
today's post will thus be about the Norwegian band
Kawaii
. This lo-fi
electro-pop duo adds fanciful touchs with toys and xylofones to a
guitar-vintage keyboards basis. Their debut album
"if it shines, we have it"
was released in november 2004. And they are working on a new album on the
Peruvian (!) label Plastilina Records.
My Space: Kawaii
Mp3:
Kawaii – Hugs
(YouSend: for a limited time only)