Late Night Brew | Rogue's Gallery
Rogue's Gallery: Pirate Ballads, Sea Songs and Chanteys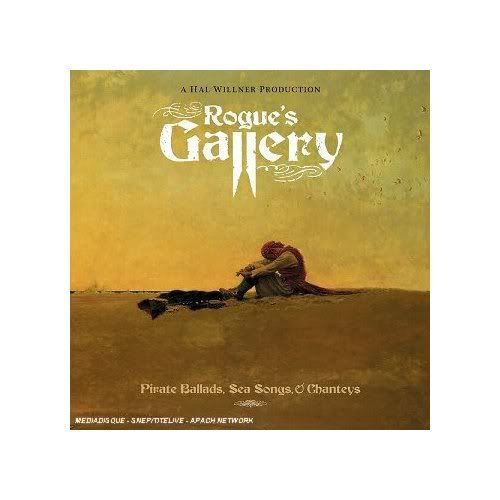 (text below from the label)
The idea for Rogue's Gallery originated when Gore Verbinski and Johnny Depp were working on their second film together, Pirates Of The Caribbean: Dead Man's Chest. 'I slowly became fascinated by the idea of a contemporary reinterpretation of the sea chantey,' explains Verbinski. 'I imagined the artists that I listen to and respect doing their take on this age-old music: the song of the sea.'

The collection is filled with contemporary reinterpretations of songs from a genre of music that has all but disappeared. Bono, Sting, Nick Cave, Bryan Ferry, Lou Reed, Lucinda Williams, Loudon Wainwright III, Richard Thompson, Gavin Friday, Van Dyke Parks, Andrea Corr and Rufus Wainwright are only a few of the distinguished artists who turn in uncompromising and honest performances that illuminate the power of traditional sea songs.
Quite an eclectic reinterpetation of some traditional sea songs...just hearing a bit of the medley, gives you a good preview of things to come.
mp3 download: ""Rogue's Gallery Medley"
(courtesy of insound)
Buy the album ovah
here
.