Coachella Webcast
Not really an impressive line up, compared to last year's...but there are a few bands here and there worth seeing I suppose. Perhaps its from the past reunions that made this festival hype such an event. Then the rumors of a Smashing Pumpkins reunion? (wishful thinking eh)...then to find it'll be Madonna making her way to Coachella?
For those who who aren't going, worry not.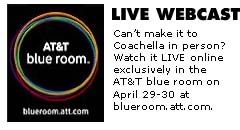 Not sure about the details about this whole thing, but it appears that there will be a webcast of Coachella via webcast.
And I suppose Coachella is attempting to broaden its audience with Madonna on the bill and AT & T sponsoring the webcast.
AT & T Blue Room
official site: Coachella