Today's Second Cup | Protokoll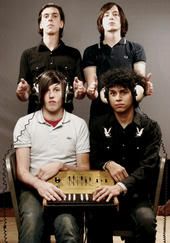 formed: 2004
from: Somerville, MA
type of music: heavy influences from The Chameleons, Bauhaus and Joy Division.
current release: self titled EP
I heard these guys on KCRW's MBE as Steve Lamacq gave a quick blurb about these guys and I'm diggin their sound.
"Terrific new band from the States. Very fine EP. They nod to everything from Bauhaus to The Chameleons UK."- Steve Lamacq- BBC 6 Music DJ
mp3: Protokoll- "Settled (How Can You?)"
mp3: Protokoll- "Holy Divine" (Surreptitious Remix)
Listen to some of their stuff at
My Space: Protokoll