Today's Brew | LA Weekly: Grizzly Bear
If you haven't already read the article, it's worth checkin' out.
LA Weekly's
subheading reads
Meet Grizzly Bear, indie rock's best "gay-straight-straight-straight quadrant"
.
LA Weekly
talked to Droste and bandmate Daniel Rossen about sonics, vocals, the gay press and other topics of urgent interest.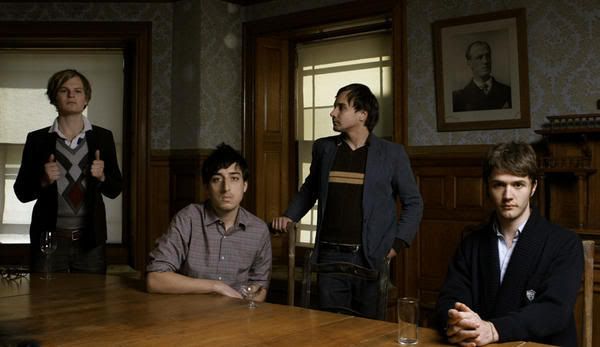 (LA Weekly article by Alec Hanley Bemis)
LA Weekly:
Hey, you have your own genre! A related question: Do the lyrics connect to the fact that Ed is something of a rarity — a gay indie rocker in a scene that can be very asexual?
DROSTE:
"Plans" is about a boy, and that's about it. ["Juan from Argentina, such a strange predicament we find ourselves in/Baby it's a long way to South America . . ."] The first album [2004's Horn of Plenty] is definitely more about gay-centric relationships.
LA Weekly:
A few months back, though, a very gay-centric interview between you and Owen Pallet from Final Fantasy and the Arcade Fire did make its way around the Internet.
DROSTE:
That wasn't meant for everyone to read. I don't regret doing it — I've done a bunch of gay press — but when things get posted on the Web and people start Googling, suddenly a story meant for one audience is in general circulation. All of a sudden, journalists start asking about it.
ROSSEN:
We are a gay-straight-straight-straight quadrant.
DROSTE:
Quadrant? Bloc Party's lead singer, Kele, just came out of the closet, so you know . . . add another one to the list! [Fake enthusiasm.] Yeah, sweet. [Everyone laughs loudly.]
Read the full article ovah
here
.
mp3:
Grizzly Bear- "Plans (KEXP live performance)"
(YouSend: for a limited time only)
Grizzly Bear
plays a soldout show at the Troubadour tomorrow (Wed, Feb. 21).