NPR's Best Songs 2006 (So Far)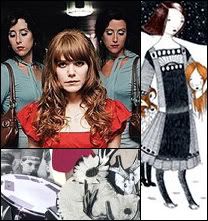 This week,
NPR All Songs Considered
serves up their take of the best songs this year (so far).
Tender Forever- "Then If I'm Weird I Want To Share"
Cat Power- "The Greatest"
Jenny Lewis with the Watson Twins- "The Charging Sky"
Neko Case- "Margaret Vs. Pauline"
Super XX Man- "Collecting Rocks"
Gnarls Barkley- "Crazy"
Paul Simon- "How Can You Live in the Northwest"
The Walkmen- "Emma Get Me A Lemon"
Art Brut- "My Little Brother"
Thom Yorke- "And it Rained All Night"
Stream the show by visiting their site ovah
here
.
I'll put together my favorite songs of the year (so far) on Friday.