Gorillaz: 'Days' are Numbered?
Say it ain't so, but it appears that this could be it for the Gorillaz.
NME reports that Damon Albarn announced that "Demon Days" (2005) would be their last album.
(picture of creators Damon Albarn and Jamie Hewlett with Dennis Hopper at this year's Grammys)
And could there be a reunion of the band Blur? Just like March Madness, anything can happen...anything.
From NME, Albarn admitted:

"At the moment we're like, that's probably the last album we make, I don't think we could make a better album than 'Demon Days' really, for what this is and how it works."

However, he left a door open by adding: "Last night we thought 'Surely this isn't the end', and I don't know we're saying it's the end again, but it's quite a hip-hop thing to retire and come back you know."

The issue has been clouded even further by the revelation earlier this week by Blur bass player Alex James that the band have reconvened recently to make new music, their first since the release of the 2003 LP 'Think Tank'.
Read the full article
here
.
From their "Demon Days" album, yet another impressive 3D'ed out vid: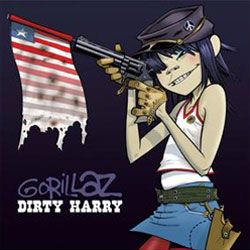 WinMed: Gorillaz- "Dirty Harry (featuring Pharcyde's Bootie Brown)"