Today's Brew | Michael Brecker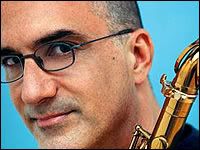 I was listening to
NPR Morning Edition
this morning, and they had a really nice feature on the world renowned jazz saxophonist
Michael Brecker
. Although he didn't live to see the official release of his current album
"Pilgrimage"
that came out last month which features an all star line-up of the big names in the jazz world.
Musicians list the components of Brecker's signature sound: His rich tone. His fluid and lyrical flow. His recent growth as a composer. On Michael Brecker's musical farewell, one can hear all these things.
(excerpt from the article)
Visit
here
to check out the full NPR article about him and stream a few tracks off the album
"Pilgrimage"
.
Amazon Video: Michael Brecker