The Canadian Invasion
| The Canadian Invasion |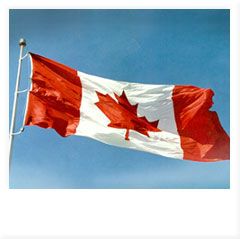 Be sure to check
Under The Radar's current issue
on "O' Canada".
Music in 2005 is definitely the year that Canada made an enormous presence, thanks to the success of the Arcade Fire's album Funeral from last year. It opened the floodgates to the current wave of the Canadian music scene.
Here's the breakdown of the whole Canadian music scene:Vancouver:
The New Pornographers
mp3: "Use It"
Destroyer
mp3 download: "An Actor's Revenge"
Black Mountain
mp3 download: "Druganaut"
PiANO
Calgary:
Tegan & Sara (they bounce back forth from Vancouver to Montreal)
Feist
Guelph:
Constantines
mp3: "Love in Fear"
Ontario:
A Northern Chorus
mp3 download: "The Shepherd and the Chaffeur"
Russian Futurists
mp3 download: "Paul Simon"
Nova Scotia:
Sloan
Toronto:
Bell Orchestre
K-OS
Stars
Metric
mp3: "Poster of a Girl"
Broken Social Scene
QT vid: "Almost Crimes"
Death From Above 1979
Peaches
The Hidden Cameras
The Most Serene Republic
mp3 download: "Content Was Always My Favorite Color"
Montreal:
Arcade Fire
QT vid: "Wake Up"
GodSpeed You! Black Emperor
The Unicorns
mp3: "Tuff Ghost"
Wolf Parade
mp3: "Shine A Light"
We Are Wolves
The Dears
mp3: "Summer of Protest"
The Stills